Shred Pros Provides Secure Document Storage Bins for Your File Destruction
Protecting the privacy of your clients, company, and employees is vital. By entrusting Shred Pros with your file shredding service needs, you are providing peace of mind to, not only your company, but to everyone who has entrusted your business with their personal and confidential information. The law requires all pharmacies, medical centers, government entities, private businesses ect. must destroy sensitive data to prevent mishandling. That being said, Shred Pros provides all of our regularly scheduled customers with free placement of our locked Security Bins and Consoles to temporarily house and protect the those documents.
Choose from our wide selection of tamper-proof security consoles and bins. Once documents are placed in the locked container, only an authorized representative and key-holder can remove them. Customers participating in our shredding service will be serviced on predetermined service dates. On the scheduled service date, your Shred Pros Customer Service Representative will check in with the Authorized Representative of company, collect and transport all contents in a locked security bin to be destroyed, at your location, in our mobile shredding unit.
Shredding secured documents results in a lot of paper waste. That being said, ALL Shred Pros customers are participating in a green initiative program. This means that all shredded paper is bailed and shipped directly to the recycling facility to be repurposed into various paper products.
The Executive Console

The Executive Console is a non-formaldehyde console designed with ultra-strong poly components that reinforce all the points where traditional consoles fail. It provides the efficiency, durability, and flexibility you need, making it an asset to your company for the future. Anti-phishing paper deflector ensures no hands can access documents. And these paper shredding security bins are 100% recyclable. Features include:

Pin & Dowel Construction
Self-Closing Lock to Keep Documents Secure at All Times
Metal Striker & Anti-Pry Device to Ensure Security

Dimensions & Capacity

Console Dimensions: 16" L x 21.5" W x 36" H
Capacity: 80-100 lbs.
Empty Weight: 53 lbs.

Defender Series Paper Shredding Bins

Our E-Series paper shredding bins provide a secure location for document collection. They boast up to 350 lbs of paper-holding capacity. The external hasp and internal lockjaw locking system secure the lid of the container, thereby preventing tampering or removal of sensitive documents. No padlocks are required for these security bins.

Dimensions & Capacity

Defender-32 2-Wheel
Dimensions:
21.5" D x 19.5" W x 38" H
Capacity: 125 lbs.
Empty Weight: 21 lbs.

Defender-65 2-Wheel
Dimensions:
27.5"D x 24.5"W x 42.5" H
Capacity: 200-250 lbs.
Empty Weight: 39 lbs.

Defender-95 2-Wheel
Dimensions:
35.25" D x 25"W x 44.5" H
Capacity: 250-300 lbs.
Empty Weight: 44 lbs.

Deskside Series

Secure deskside collection container is the number one choice for hospitals and medical facilities. The deskside series fits nicely next to each workstation. Prevent the lazy toss into the recycle bin and install deskside security bins at each work station for complete compliance.

Dimensions & Capacity




Dimensions:




20" L x 11" W x 24" H




Capacity: 16 US Dry Gallon




Empty Weight: 5.3 lbs.




Dimensions:




20"L x 11"W x 27"H




Capacity: 20 US Dry Gallon




Empty Weight: 5.7 lbs.




Dimensions:




20"L x 11"W x 30"H




Capacity: 23 US Dry Gallon




Empty Weight: 6.3 lbs.

Seal N' Shred Bag

An easy way for residential customers to shred documents.
The Seal 'N Shred bag is the ultimate no-hassle way to shred documents.
Available in a large 12-gallon size, the Seal 'N Shred Bag can be easily filled, sealed, and shredded—no emptying required.



It's made from cultivated older trees, which absorb less carbon dioxide and produce less oxygen than younger trees.
Adhesives made from 100% biodegradable potato starch
Lightweight and easy to store - perfect for overflow
Ideal for use with shred days, purges and fund raisers

Dimensions & Capacity

Dimensions HxWxD: 28.5"x13.5"x8.5"
Capacity: 12 US Dry Gallons
Weight Capacity: Approx. 35 Lbs
Weight Capacity: Approx. 2 Banker Box capacity


Call now to have your bag mailed today!
(407) 718-8352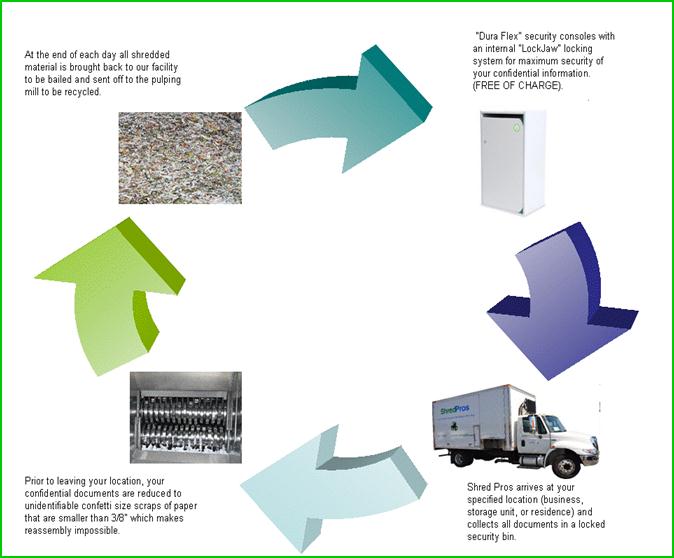 Shred Pros Protects Your Confidential Information
Shred Pros provides FREE Executive Console and/ or Bin placement to all customers in need of weekly, bi-weekly, monthly, bi-monthly and quartlerly document destruction services. There are no rental fees for the use of Shred Pros equipment as our customers are simply paying for the service.
Upon completion of each service, Shred Pros provides an invoice which includes a Certificate of Destruction. This document certifies that all confidential information has been Collected and Destroyed to particles incapable of being reconstructed by normal means in full compliance with all known Federal, State or Local legal and regulatory requirements on the scheduled date and time of the service.
Not all information is stored on paper. Hard drives, electronics, and x-rays contain private data that requires special handling. Shred Pros shredding service will securely and discreetly retrieve your digital media, shred your sensitive information and provide a Certicate of Destruction.